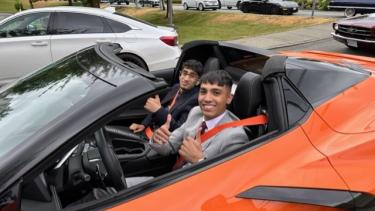 Grand March/Prom is a school function. A reminder to students that if anyone drives recklessly at the Grand March, or is under the influence of alcohol or drugs, they will not be allowed to go to Prom.
Parent/Guest Parking
ìWe will have limited parking available at William A. Fraser Middle School, and of course you can find parking on the streets. The parking stalls out front of the school will be reserved for Grad vehicle parking after they have been dropped off at the red carpet.  Parents should plan on arriving in advance of the red carpet arrival which will begin at 3:15 pm.
3:15 pm Red Carpet Arrival
ìStudents walk the red carpet as they arrive at 3:15 pm
ìTo keep traffic flowing smoothly, graduates are to arrive using the route McMillian to Blatchford to Guilford to Old Yale to arrive at Yale. The route is designed for right hand turns only which will help ease traffic gridlock. No left hand turns westbound on Old Yale will be permitted to the school.
ìIf Grads are driving themselves, they should arrange to have a driver depart with the vehicle so Grads can walk the red carpet.
ìYou will enter Yale's driveway in one of two vehicle lines where you will then walk the red carpet. There will be very limited parking for Grads to park at the front of Yale on a first-come-first-serve basis.
3:15 pm Mingle & Take Photos
ìFeel free to wander and take your own photos with family & friends in and around the school.
4:15 pm Grads Assemble for our Grand March
ìStudents will assemble in line near the Main Street Cafe entrance to the gym. The Grand March begins at 4:25 pm. You will enter the large gym walking in a S-like pattern. You, your friends, and any Prom guests will walk this route twice as your family and friends watch with pride from the gym bleachers. After the second walk, you can take a quick bathroom break in the B wing washrooms, and then make your way to your assigned bus that is waiting for you by the portables.
4:45 pm Load Buses for Prom
ìLoad buses next to portables. Make sure you know your bus number ahead of time.
ìBus Lists will be posted in advance.
11:30 pm Buses Arrive from Prom at Yale