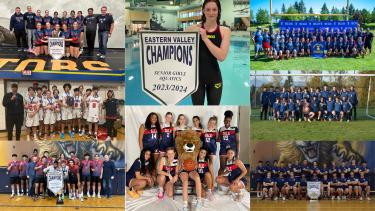 ATHLETICS
Yale Secondary has a long history of athletic success. Over the past four decades Yale has won Provincial Championships in Basketball, Rugby and Golf. Yale has also produced many athletes who have gone on to compete at University and for provincial, national and professional teams. We believe in athletes playing in multiple sports we support all of our athletic teams. 
Our Sr. Girls Basketball team finished 3rd in the province in 2020 and 4th in 2023. They have won many tournaments along the way. Our Sr Boys basketball are three time Provincial Champions and have many Fraser Valley banners on our gym wall. Our Sr Boys and Girls Volleyball are ranked in the top four for the 2023 season and are strong every year. We have have strong swimming, cross country, track and field, and boys and girls soccer.
Our Sr. Boys rugby team consistently finishes in the top 8 in the Province including a 2016 AAA Provincial Championship. In 2023 our Sr Boys won the Eastern Valley Championship and came top 8 in the AAA BC League. Our. Sr. Girls team is always a provincial contender. Our Sr Girl's rugby team has won back to back Eastern Valley Championships and BC Championships. They have been the best team in the Province in 2022 and 2023!
Our golf team has won three Provincial Championships and are always competitive at the Fraser Valley level. We are proud to say PGA Champions Nick Taylor is a Yale Grad and former Yale golf team member. 
We are proud to have over 300 athletes participate in sports teams at Yale each year. Please check out our athletics calendar to when games are. GO LIONS!